Four Boys and a Guitar
The Story and Music of the Mills Brothers
by Douglas E. Friedman

o

The only biography of this world-famous vocal group.

* * *

A caring and determined writing - enriched through gifts of stories and insight, enhanced with details . . . I wiped tears and laughed aloud. Read this book—with your heart." - John H. Mills, II

* * *
​Notice: Some errors have been discovered in the Discography: (1) Several pages of songs were inadvertently omitted, and (2) two pages were duplicated. We apologize for the inconvenience. If you would like to receive the corrections, please email us at defriedman@harmonysongs.com and we will send them to you.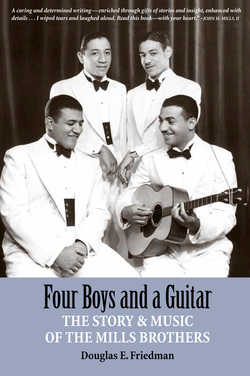 * * *
Excerpt from Chapter 1
Telegrams of condolence poured in on that January day in 1936 from luminaries such as Louis Armstrong, Al Jolson and Joe Louis as the family gathered in Bellefontaine, Ohio for the funeral. The pallbearers were childhood friends from Piqua, Ohio, only 40 miles away. Death is never easy on family or friends, but some deaths hit harder than others. John Charles Mills was only 25 years old and was leaving a wife and baby daughter behind. John and his brothers had not that long since given a command performance in London for the King and Queen of England, the first black performers to be given that honor. One of John's three older sisters had died that past November, compounding the tragedy for the family.
A newspaper article reporting on the funeral said: "John Charles Mills, Jr., 25, whose singing skyrocketed him from obscurity and poverty in this town to worldwide renown and acclaim was buried in the Bellefontaine Cemetery, Sunday." John Jr.'s three younger brothers and their father flew in for the funeral from Philadelphia, where they had been performing. The father, John, Sr., had been filling in temporarily for his ailing son John Jr., who had been recuperating at his mother's home in Bellefontaine from an illness that had a relapse while the brothers were in England.
By the time of John Jr.'s death, the Mills Brothers had already hit the Pop Charts 19 times, including two Number One hits—"Tiger Rag" and "Dinah"—and 14 additional Top Ten songs. This was a critical point for the group: Would they go on without their leader and older brother? And, if they did, would they continue to have the kind of success they had already experienced so quickly and at such a young age?


* * *

100% of the profits from the sale of Four Boys and a Guitar go to the Center for Holocaust, Human Rights & Genocide Education, Inc. and its programs designed to combat racism -
www.chhange.org
* * *

Purchase now for $22.95, plus $3.50 (for shipping by media mail within the U.S. only) for a total of $26.45. For shipping cost to non-U.S. destinations, please contact us at defriedman@harmonysongs.com

This book is also available from all major online booksellers.